What can I do for you? Tons!
The right words – effective content – work with your photos to create an engaging, irresistible picture that will help sell your product better than photos alone can. However, the right copy only works if it's delivered via the right medium, at the right time and to the right people. This is where an expert in strategic communications uses strategy expertise to enhance every single communication you send out.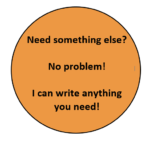 Take advantage of my specialties:
Strategic Communications Consulting
Using expertise gained from over 15 years in communications along with knowledge gained from education, I consult on your overall communications strategy and can even put together a strategic integrated marketing communications plan, giving you a roadmap to follow for the entire year.
Website Content
Using a combination of compelling content and search engine optimization (SEO) techniques, I can help your online presence sell your product to your customers.
Sales Pieces
Whether you're looking for a brochure, simple sales letter or multi-page sales letter, I can write you beautiful copy that is effective and engaging.
Autoresponders, eNewsletters and Email Campaigns
Email communication, whether via autoresponders, eNewsletters or email campaign, is a reminder to your customer.  Written well, it keeps your customers mindful of and engaged in your product, at the forefront of their mind for when they're ready to buy and purchase a ticket.
Need more information? Read some more about me or check out some answers to frequently asked questions on the FAQ page. Even better, just contact me and we'll talk!