You Have Questions? I Have Answers!
Frequently Asked Questions (FAQ) on Why and How to Hire a Copywriter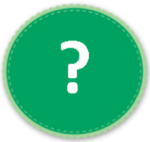 Why do I need a strategic communications consultant and copywriter?
Results. Writing results-oriented copy is a specialized skill, one that I've been trained for, with the experience to back it up. Yes, you're excellent at what you do, and so am I. Let's work together to attack your communications strategy and craft compelling copy!
Time. You probably have a ton of tasks and projects you're responsible for. I can take copywriting off your hands and free you up to start tackling everything else on your to do list.
Speed. I am deadline-oriented and work quickly yet thoroughly and creatively. While you are focused on all your other tasks, I am only focused on your communications, whether it's crafting an inspiring strategic integrated marketing communications plan or writing your company website, brochure, sales letters, email campaigns, etc.
Fresh Perspective. Often, getting "new eyes" on a project takes it in an unexpected and more effective direction. I provide that fresh perspective to your copy and your overall communications strategy.
Value. When you work with me you only pay for excellent communications strategy and copywriting – not for overhead such as a multi-level office, staff, software, transportation, lunches, etc.
Dedication. Your project does not go on my back burner. I am dedicated to my goal of providing you with an end result you are ecstatic with.
What are your qualifications as a copywriter?
I have a background in communications (advertising, public relations and marketing), including leadership positions with the Public Relations Society of America (PRSA). I have also earned a Master's in Business Administration (MBA) with a marketing concentration and an accreditation in public relations (APR). I'm a member of PRSA, American Writers and Artists, Inc. (AWAI) and the Professional Writers Alliance, and am constantly updating and reinforcing my skills with continuing education courses, programs, and webinars.
What does this mean for you? Well, not only can I craft your overall strategy, if that is something you'd want and need, but I can also expertly tailor your copy. I've written marketing material and content for everyone from Fortune 500 companies to local businesses, and have won awards for material I have written.
What are your qualifications as a hospitality industry copywriter?
First and foremost, I know your customer because I AM your customer – I have been since I visited my first hotel as a toddler and fell head-over-heels in love with all things hospitality. I've travelled nationally and internationally –  and have even lived in Bangkok, Thailand.  I've backpacked and stayed in youth hostels yet also enjoyed first class transport and 5-star accommodations.
I've written for hotels, restaurants, travel websites, hospitality blogs, sports teams, and more – if you're in the hospitality industry, your business is my interest.
What kinds of assignments do you handle?
I cover the full spectrum. Whatever you need, I can write it. My experience covers a wide assortment of marketing communications, including brochures, websites, ads, feature articles, presentations, press releases, direct mail, newsletters, blog posts, case histories, annual reports, email, and SEO Web copy.
My specialty is my ability to write clear, credible, persuasive copy, no matter the format.
What can I expect from working with you?
What you expect is what you get – a professional who is passionate about your project, with the experience and expertise to consult on your communications strategy and to write targeted sales-oriented copy that is well-researched and well- thought out. On top of that, you get me – and only my work. I don't outsource any projects.
Do you have a guarantee?
Absolutely! While no one can guarantee sales results or customer inquiries, I do guarantee that you'll get excellent copy and communications strategies from me delivered on time. Plus, if you are not 100 percent satisfied with the first draft, I'll rewrite your copy until you are happy – up to two times within 15 days of first draft delivery, providing the project scope has not changed.
What are your fees?
For any copywriting assignment – a brochure, a direct mail package, a sales letter, an ad, a landing page, a feature article, a website – just let me know what you have in mind and I'll quote you a price.
I charge a fixed fee for the entire project – I do not charge by the hour. Since every project is different, I can give you a quote after getting the specifics on your project. It is important to know that my project fee includes all the tasks necessary to write your copy, including strategy, research, phone meetings, emails, copywriting, editing, and revisions.
Please note that I require a 50 percent deposit before I start work on your project, with the remaining project fee due upon project delivery.
How long will it take you to write my copy?
Ideally, I like to have two to three weeks to work on your copy (longer for very large projects). That gives me the time to polish, edit, and revise until I'm happy with every word. However, that leads me to the next question:
Do you do rush jobs?
This is something we would have to discuss. I may be able to fit you in among my other projects to meet your rush deadline – for an increased fee. However, meeting deadlines is very important to me, and something I pride myself on. I will only agree to take on your rush project if I am confident I can do my usual quality work within your specified timeframe.
I only make promises I can keep and only take on work I can deliver.
Revisions?
I guarantee that you'll get excellent copy and communications strategies from me delivered on time. If you have revisions, just tell me what you want improved and what the changes are and I'll quickly make them.
How do I hire you? Do I need to sign a contract? Do you ask for money up front?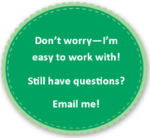 What's great about the 'digital age' is that you can be in Timbuktu and I can be in the North Pole and we can still work beautifully together. Here's the typical process:
Free initial consultation. Simply send me an email or fill out my contact form. We'll then confidentially chat about your project to ensure I have all the necessary information and background for your project.
Confirming the brief and writing a quote. Based on our conversation, I'll write up a scope of work document that will outline what we talked about – the project scope, including your goals, target market and timeframe – and spell out the project deliverables, deadline and fee. You are not under any obligation to work with me until you email me a signed copy of the quote.
Agree to work together. I require a 50 percent deposit before I start work on your project, with the remaining project fee due upon project delivery. Once I receive the signed quotee and the initial 50 percent deposit, I begin working on your project.
I work on the project. I spend time studying your information, thinking, writing notes and doing additional research. Once I have a thorough understanding of your target audience and how best to position and therefore sell your products or services I begin drafting your plan and/or copy. I may contact you via phone or email if I have additional questions. Once I have a first draft, I'll spend time editing and polishing it.
Review and revisions. Once I have a draft I am happy with, I email it to you as a Microsoft Word document. You'll review the piece and provide comments and feedback. I then work on revisions (provided they're within 30 days of final product delivery and the project scope has not changed) and provide you with a final copy.
Project sign-off. Once you have a piece you want and are ecstatic with, you sign off on the final via email. You then pay the remaining fee, and this particular project is complete.
Future relationship. Rather than doing one-and-done jobs, I prefer to develop a relationship with my clients. Therefore, it is my goal that you are ecstatic with my work and that we both enjoy working together. Hopefully, we will become partners in crafting your strategy and communications starting now and into the future.
What if I have any other questions?
You can reach me using the contact form or by contacting me directly.
I'll be happy to answer any of your questions. You are never under any obligation or pressure when we talk or email. In addition, all of our conversations are confidential.
–  –  –  –  –  –  –  –  –  –  –  –  –  –  –  –  –  –  –  –  –  –  –  –  –  
Hopefully I've answered all your questions, but, if not, read some more about me or simply contact me! Or, if you're ready now, fill out the order form today!